Show your appreciation for a local business by giving a larger tip, saying a kind word to the management, or buying an extra product to give to a friend.
I haven't been in the shopping mood yet, so I'll talk about one that I've patronised before.
welovezakka
is an online business based locally, selling all kind of cutesy stuffs from places like Japan and Korea. I'm not really that kind of girl who squeal for e.v.e.r.y cutesy stuffs, but the products welovezakka has really caught my attention.
Two Christmas ago I gifted the
Domo Felt Pen Case
and
Eiffel Tower Card Stand
, and of course I own a set of the latter myself. Who can resist right?
Once in a while I will still pop by the space, most of the time resisting the temptation to stock up. I highly recommend for anyone who have kiddos in the family or simply love cutesy stuffs to check out
welovezakka
!
BONUS OF THE WEEK
I have definitely picked up a tip or two during the packing and unpacking of the company's big move.
I am truly grateful
for the experience, it's going to help so much in future.
On the line of the company's move,
I am thankful
we are now situated away from CBD. Far, far away. Sure, the awesome food and short distance to city are to be missed, but I love how the morning and evening trains are not as insanely packed.
Since J and his parents are sick, it's inevitable for me to catch the flu bug when I board the family car, especially since I don't have a strong immune body system.
I am grateful
for tissue, seriously. Without it, I'd probably throw away lots of shirt from wiping my mucus on, or had to camp by the sink at the rate my nose acts like an open tap.
Yah, I kinda have a tissue stuck up my nose now. What?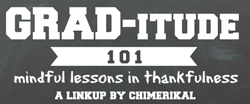 Let's take a look on how what others are grateful for this week!
FOLLOW ME: BLOGLOVIN // GOOGLE+ // INSTAGRAM // TWITTER