What small things made you happy in 2013? What big things made you happy in 2013?
I know it's still a little early to conclude this, but 2013 has been such a roller coaster ride. I shall spare you with the low moments, so all attention on the happy bunch!
Let's start with
small things
! • I am so grateful that I had the chance to get exposed to
Melyssa
's
Snail Mail Collective
, it was really fun meeting people from different parts of the world for sure. • Thank goodness I didn't shy away from visiting the
waishi exhibition
in August. It was so freaking amazing and I not regret one bit with my purchases. • ALL THE FOOD. 'Nough said.
Alright people, now to the
big ones
! • I have
finally
embark on ACCA, like how
I wanted before the start of the year
! • J and I hit another milestone by celebrating our
fifth year anniversary
. It's crazy how time flies. • I'm always thankful for any possible chance to travel out of Singapore, so the
Bangkok trip
I had without a doubt will be listed here.
Hold your horses, because I'm gonna talk a little more about the following two.
J meeting my maternal relatives for the first time.
I have good relationship with my maternal cousins and aunts, so it was really important for them to know and accept my partner. I contemplated on whether or not it's too early, but decided we were stable enough to do so. Of course, I REALLY wanted my family to meet him, especially my 5th maternal aunt who is like a mother to me. Obviously (from the photo) J was very nervous, but he was up to the game. Although a little drama had happened before we arrived, all went well at the end of the day. The best part is that they didn't have any negative comments/remarks/feedbacks about him. Phew and yay!
J graduated!
To be able to be with him from the start of the diploma journey until the end, it was extremely honoured and blessed. Thanks to the nature of the industry he's entering, I learnt the behind-the-scenes tricks and tips. The (repeated) stories are precious and eye opening, some of which I share with people he doesn't know.
Once again, congratulations, love!
BONUS OF THE WEEK
• The beginning of this week was hellish at work, in a busy kind of way. It didn't help when I was feeling unwell from the flu bug plus lack of rest.
I am thankful
for the colleagues I have. Despite being on a managerial position, they didn't mind a bit on buying lunch for me, even if it was on the way.
• Lately I have been drafting on the train ride to work in the morning, it's really refreshing to do it on such a different platform.
I am grateful
for dumb-proof application like Notes.
• Watching the documentary about Tourette syndrome on Home & Health Channel makes me feel
so thankful
that I have the control ability over my own body. There's a surge of mixed emotions running inside me, hoping for scientific research to advance fast enough in order to help more people with Tourette's.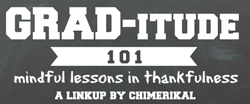 FOLLOW ME: BLOGLOVIN // GOOGLE+ // INSTAGRAM // TWITTER