READING and trying my best to understand the English-and-Malay conversation in J's maternal family chat. Maybe I am quite a gossip too. Ooops.
WRITING ideas for wedding outfit lust. (No, J and I aren't signing that paper any sooner. Yet.) Eeeep!
LISTENING to Oh Sit! on TV. I love the sarcasm from the hosts. Maybe I'm a little sadist today.
THINKING about heading to the nearest mall to grab a book or some postcards as per my Weekly Wishes, but the weather is totally not ideal at all.
WISHING The Move #1 will kick off smoothly. I really need to step out of my comfort zone during those classes.
HOPING for lesser family drama on J's maternal side. I have lived 25 years without any drama from my family members and I don't think I am missing out on anything, so please keep that away from me.
SMELLING nothing.
WEARING white t-shirt and flowery blue shorts. That's how I rock at home.
LOVING Wunderlist! I love coming up with To Do List, though keeping up with them is another thing all together. Besides, this app is clean and user friendly, so why not?
WANTING some takoyaki and sushi.
NEEDING what I am wanting. For real.
FEELING the itch to shop. Must. Resist.
CLICKING on nothing, though I'd love to be clicking on something. Am I making sense?
Can't believe the weekend is almost gone. I seriously am dreading for Monday to come, but I got to do what I got to. That being said, I am going to bum around while watching my niece create her imaginary house with blocks. Hopefully you'll have a good Sunday too!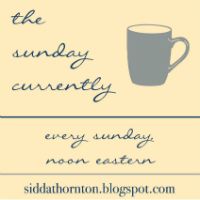 Peep at how the others' spend their Sundays here!
This week's posts:
Weekly Wishes #50
Let's Be Friends!
Wordless Wanderlust #31
What We Wore // Tuesday Blue
Friday Favourites #18
The Happy Type Birthday!

FOLLOW ME: BLOGLOVIN // GOOGLE+ // INSTAGRAM // TWITTER